Our League
The Saturday Golf League is a co-ed club located in the greater Phoenix metro area, and is a member of both the Arizona Golf Association (AGA) and the Arizona Women's Golf Association (AWGA). Join us for weekly golf tournaments all around the Valley of the Sun.  We offer prizes and lots of fun and excitement. Our members may also apply for a USGA/GHIN handicap through us.  Check out The Saturday Golf League links (above) and resources. To receive information about the Saturday Golf League, click here.
The 2016 - 2017 Tony Albrecht Cup...
The Boulders, TPC Champions, Grayhawk Raptor, Verrado Golf Club – the list of top-notch courses booked for the 2016-17 SGL season goes on and on,
and this coming season our special, annual "Ringers" event will be conducted over five rounds at Talking Stick Golf Resort's beautiful South Course.
The 2016-17 SGL season begins September 3, 2016 and runs through April 29, 2017. There will be 32 SGL events scheduled during the 2016-2017 season. SGL members earn points weekly for the Tony Albrecht Cup over the course of the season. SGL members who play a minimum of 8 rounds between September 3 and the last Saturday in April 2017 are eligible to play for the 2016-2017 Tony Albrecht Cup and more than $3,000 in prize money.
This coming season, players will earn 1 bonus point towards the Tony Albrecht Cup seeding for each round played between September 3, and April 29, 2017, also 1 point for each flight win. Play for the 2016-2017 Tony Albrecht Cup will take place Saturdays on May 6, 13, 20 and 27.
Get in position to win prize money and the prestigious Tony Albrecht Cup; play more rounds with the Saturday Golf League!
VGA takes home the 2016 O'Keefe Cup…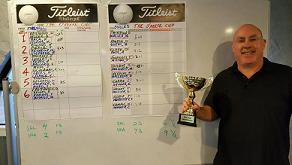 The Saturday Golf League competed in a Ryder style match play event against the Valley Golfers Association at the Ken McDonald Golf Course in Tempe on Thanksgiving Saturday. This event named the O'Keefe Cup after Jim O'Keefe a VGA player of very long standing who passed away this year. 60 players (of which 11 double dipped) from both leagues competed with the final score of the team match 9 ½ to 6 ½ in favor of the VGA. The match consisted of 6 Four-Ball matches and 10 Single matches with tight competition on both sides. Outstanding performances were turned in by Dan Campos with a gross score of 2-under 70 and also Steve Richter who won 1st place in both leagues with a gross score of 77 (net 64). The VGA gets to hold the O'Keefe Cup until the next competition match and also gets to choose the venue. (Pictured above is Tom Hecocks VGA Captain and winner of The O'Keefe Cup) Final R

esults
Summer Series Champs Crowned…
Dan Shumaker and Claudette Raphael both put together come from behind victories in their respective flights to capture the first place prizes in the 2016 Summer Series Finals. The championship final 18 holes were played at the Legend Trail Golf Club under ideal conditions with 32 players competing for the $1,000 in prizes. In Flight #1, Dan played an outstanding final round which included 5 birdies for a gross score of 75 and a total point count of 201. Nick Gerstner finished 2nd with a solid point total of 173. Sean Phillips who led after Round 1 at the Southern Dunes Golf Club slipped to 3rd place after a disappointing performance finished with 146 points followed by Dan Gallegos with 145 for 4th. Flight #2 had Claudette finishing strong at both the Southern Dunes and Legend Trail events accumulating 197 total points to take top honors. Randall Ross who also led after Round 1 finished 2nd with191 points, Hiroko Kobayashi who advanced her position 19 spots over the 36 hole championship finished 3rd with a total of 178 points followed by Oscar Delgado in 4th with 143 points. Final Standings
The 2015-2016 Tony Albrecht Cup Results...
We did it again! The last four weeks in May 2016 offered a season-ending fantastic finish to the SGL 2015-16 Season as the annual Tony Albrecht Cup played out in stroke-play tournament fashion at Wickenburg Ranch, Apache Stronghold, The 500 Club and We-Ko-Pa's Saguaro course. This season, SGL competitors competed for over $3,000.00 in prize money in May. New format changes weighed heavily on the results, and assisted greatly with generating record-breaking attendance and prize money throughout the season.
The League's most prolific golfer, Jim Bieleniewicz took home the A flight title fending off stiff challenges from Dave Dean and Don Lucas, who placed 2nd and 3rd in the A flight respectively. Bieleniewicz had a nice lead heading into the final four weeks having scored bonus points for attending almost every Saturday event during the regular season. The early lead for Jim proved insurmountable by those chasing him for the A flight title.
"Well, I just can't believe I won this thing," Jim B. commented. Runner-up, and SGL League President Dave Dean offered, "Jim played great golf all season and deserves a hearty pat on the back for a hard-fought victory, but I and others will be back for another shot at that Cup title in 2017."
The second flight was set-up for a battle royal heading into the last weekend at We-Ko-Pa, but turned out to finish with more of a mild whimper as Erston Senger cruised to his second consecutive title. Bill Sandigo, Ben Goodwin and Bret Goers rounded out the top four.
Flight 3 saw a close battle between first & second places with Richard Perry prevailing over Richard Pilewicz. Steve Ballard and Joe Pilewicz finished third and fourth in the flight. Final Standings Photos
Goodwin wins 2016 Match Play…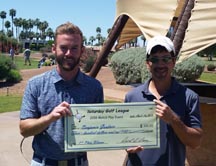 After 2 months and 11 grueling rounds of competition, Ben Goodwin defeated Steve Ballard 4 & 2 to become the 2016 SGL Match Play Champion and recipient of the 1st place prize of $300. The final match which was contested on the Wigwam Heritage course under ideal conditions and had both players going in with one loss of the double elimination format. Pictured above is Ben accepting the 1st place check from SGL's Special Events Chairman Dan Gallegos. Summary Bracket
Wire to wire finish for Lucas in Wigwam Warriors...
Just another walk in the park for Don Lucas who easily out lasted the field in the first ever "Wigwam Warrior" competition and collected the $225 first prize. The Wigwam Warrior event consisted of playing the three Wigwam courses (Gold, Patriot and Heritage) and having the best combined Net Scoring Average. A 3-way tie for second place included Erston Senger, Joe Pilewicz and Mike Tobin who each collected $85 for their efforts. Ken Baca got his entry back of $25 with the fifth place finish. Final Standings
Bieleniewicz records "Double Eagle" at Starfire...
Scoring a "2" on a par 5 is so uncommon that it is nearly impossible to calculate the odds. In any case, long time member Jim Bieleniewicz accomplished the feat on 2/27/2016 at the SGL event at the Starfire Golf Club in Scottsdale. The 479 yard #4 hole on the Hawk course was the opening par 5 of the Hawk to King event on a usual perfect Arizona golf day. Playing partners in the group who witnessed the achievement were Steve Oliva, Bradley Walker and Jeff Morrissey. As described by Jim, after hitting driver off the tee to the left side of the fairway and getting a yardage of 196 to the flag from Morrissey, he faded a 4 iron to the green with a right middle flag position. Not knowing exactly where the ball had ended up, Oliva watched as Jim walked up and looked into the hole, and then Jim looked up and smiled and said "It's in the Hole". Jim went on to a shoot a 1 over par 71 and finish 1st in his flight. Pictured above is SGL President Dave Dean presenting Jim with the framed score card of his feat. Congratulations Jim!
SGL scores another AGA Championship
...
The team of Richard Carroll, Steve Richter and Dave Dean combined to take home the Arizona Golf Association's 2015 Senior Cup Series.
The Senior Cup Series is comprised of 10 events throughout the summer using a four-ball stroke play format to qualify the top 80 of the over 300 competitors for the championship. This year's championship team of Carroll and Dean accumulated 50 points under Stableford scoring at the Encanterra Country Club to secure the win. This is the second time in the last 4 years that Richard has won the championship, who back in 2012 teamed with Kim Snyder for the title.
Team SGL wins inaugural match play competition...
The golf Gods were with us for the first Cup Challenge between the Valley Golf Association and the Saturday Golf League at the Gainey Ranch Golf Club in Scottsdale. The 16 Ryder Cup type matches were closely contested; with the SGL taking home the Cup. Captains Tom Hecocks and Dave Dean were both pleased with how this first of hopefully many future events turned out and with a few tweaks should be bigger and better next time. Outstanding performances were put together by Danny Campos of the VGA and Dan Gallegos of the SGL who easily won their matches. The SGL gets the right to hold "The Cup" until the next competition and also to pick next year's venue. Photo Album
New Membership Referral Program...
Starting 9/1/2013 the SGL will start a new membership promotion. For every new player that is brought in by an existing member and becomes a new member, both will receive $25 credit. New members must complete 3 qualifying rounds and establish a SGL handicap index, sponsors name must be declared prior to first qualifying round.